Enjoy another model that was an excellent subject in my training videos.
Price: $22.99 USD
Time: 71 min
Size: 1427 Mb
Asia Perez - Full Discounted Movie Pt 1 of 2 [MP4 1080p]
Price: $12.99 USD
Time: 21 min
Size: 425 Mb
Asia Perez - Full Discounted Movie Pt 2 of 2 [MP4 1080p]
Both videos include the following scenes:
Programming
This clip depict the programming session of Asia Perez, watching her slowly go under into a deep state of trance, mesmerized by my voice.
Deep Stuck

asia perez, a smoking hot model was recommended to me by a friend while at Fetishcon; and I could not refuse. She wanted to experience my training session, and she was wonderful. In this clip, she is coming out of her initial training as I perform a deepener and have her go under again... and then I make sure she is convinced that she is stuck to the sofa.. as she attempts to stand up and can't. Then I freeze her in place, and pan across her face, and body.
Brain Cleaning

In this clip, asia perez is convinced that she's stuck to the sofa... and nothing she can do can get her to get off of it. So I explain to her that her brain is cluttered, and making her think she's stuck - and to help her, I need to clean her brain... by removing it, and putting it back. She reluctantly agrees, as I remove her brain. She instantly goes limp and lifeless as her body falls downwards, as I catch it before she hurts herself. Then when I put her brain back in, she convulses and shakes a bit as her eyes roll back... but I put it in backwards! Causing major confusion on her part, allowing me to finally remove it again and put it back normally. Then she is able to stand up from the sofa.. where I freeze her in place, and remove her dress.
Freeze Undressed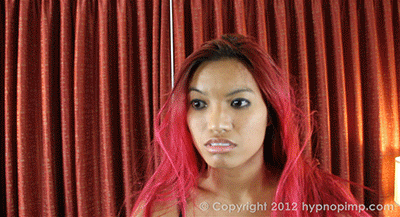 In this clip, asia perez is frozen solid. As I perform a close-up of her face, panning down to her feet with some focus on her hands. Then while frozen, I remove her bra exposing her pretty breasts and then unfreeze her as she is shocked at what happened to her bra. Then I put her back into a training state where I program her with the PLEASE trigger word. When I say PLEASE she goes blank, and is receptive to what ever I tell her. I then use this to get her to remove her panties, and then her skirt and finally her shoes... then she starts wearing her shoes as gloves, and doesn't know why.. but we do.
Red Freeze

In this next clip of asia perez; she's trained to respond to the RED command word that makes her have one of the most intense orgasms she's ever experienced. Enjoy watching as I used RED a few times, as it controls her whole body and makes her explode in an erotic blast of pleasure, as she plays with herself. Then I use the PLEASE command to force her to use her shorts as a hat, as ridiculous as it seems she seems fashionable with it on; finally freezing her in place as she stands, panning over her beautiful tight body
Frozen

In this short yet simple clip, asia perez is frozen solid... and posed.
Pussy Swap

asia perez is trained to believe that her pussy has swapped places with her index finger. When I bring her out of her training session, I start asking her some questions and then ask her to hold her hands up in front of her; as I go over and fondle her index finger and shockingly so she feels as her I was playing with her pussy and starts getting turned on.. erotically charged, she starts playing with it herself... masturbating her index finger, having an orgasm here and there.
Masturbate to Stupid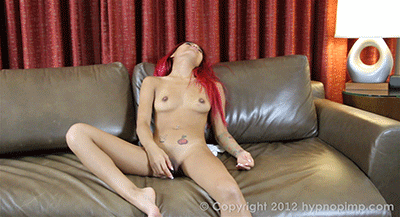 In this unique clip, asia perez is made to masturbate... but the kicker here is the more she masturbates the more stupid she becomes. Her level of intelligence lowers each time she masturbates, and as such she becomes a complete bimbo. In various points, I ask her questions to see how stupid she has become... quite interesting, and entertaining how her answers come out.
Flirting

In this clip, asia perez starts off frozen as I pose her a bit; then I unfreeze her and use the PLEASE trigger word to put her into a blank, programmable state. At this state, I tell her that she will start flirting with me and that she has this uncontrollable urge to be with me; but there is an invisible force field surround my body and she can't get close to me but has to. Then the moment I snap her out of the PLEASE trigger, you can see an instant transformation in her body language as she starts flirting with me and starting to show me how sexy she is... Then I PLEASE her again, and this time I make it so that when I snap my fingers she snaps out of this flirtatious mode and realizes what she is doing; and then if I snap again she flirts again - flipping back and forth. When she returns back to flirting with me, I snap my fingers and instantly you can see her body language changing as she becomes disgusted with herself at what she's doing.. then I snap again, and she starts getting even more slutty trying to lure me over by showing me her ass and spreading her legs to show her pussy... while she's in this state, I snap my fingers and she then realizes what she's doing and gets angry by quickly hiding herself...
Yes No Finale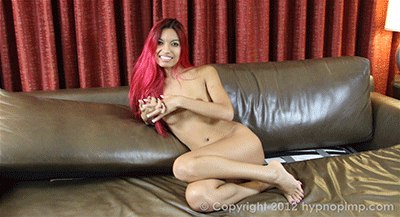 In this final clip of asia perez.. she's still flirting with me big time, but I decide to step things up a notch and snap her back and forth from being flirty to me , to not.. See her violent reaction when she realizes what she is doing with me, and then snaps back into liking it and back it not. Quite fun! Then I put her back into a training state, where I slowly bring her out and then do the reveal of what happened in our shoot with a handshake and watch her fun reaction to what all had occurred.